About John Mellor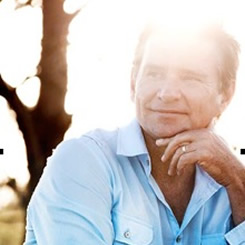 John is an International Healing Evangelist.  He grew up in Brisbane, Queensland.  As a young man, his life was a mess, until one day he surrendered his life to Jesus and became a Christian, beginning a journey that radically turned his life around and set him free from depression, anxiety, fear and alcoholism.  Despite this, John struggled to believe in the healing nature of Jesus Christ.
Many years later, John and his family left their home in Queensland to go to the Northern Territory of Australia, where he worked as a missionary pastor amongst the tribal Aboriginal people.
 As the Aboriginal people were so used to the power of their own witch doctors, John soon realised that without true 'power', the Good News of Jesus was nothing more than a nice story to them.
From a burning desire to see things change, John prayed and fasted for 10 days a month for 5 months, and cried out to God to reveal himself in power to these people.
It wasn't long before God began to do miracles and people were healed.  The local people, including witch doctors (and even John himself), were astounded by the miracles that God did amongst them.
Sometime later, John travelled from the remote areas of northern Australia to Mexico and then to Wishaw, a small town outside Glasgow in Scotland.  In Wishaw, a flood of miracles began and what was to be a one week visit turned into eight incredible months of revival. The miracles caught the attention of the national media, and soon thousands of people came from everywhere to receive healing.
The ministry as it is today was birthed out of what the Lord did at that time, and John now ministers extensively all over the world.  All of this story – and much more – is included in John's first book, Miracles from the Dust.
By God's grace, people have been healed of every conceivable type of ailment – physically, emotionally, mentally and spiritually.  God is continually healing people and setting them free!
John Mellor is ordained as a pastor with Christian Outreach Centre, but the ministry is non-denominational.  God wants to touch and heal people, whichever nation they live in, whichever denomination they belong to.  Jesus is moving powerfully now!
https://www.youtube.com/user/JohnMellorMinistries
Enq; pa@suncitychristiancentre.com.au